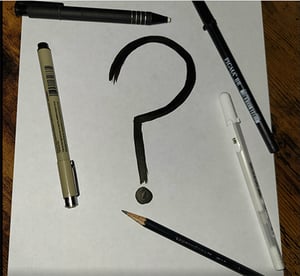 $

100.00
PLEASE FOLLOW ALL INSTRUCTIONS UNDER THE SUBJECT MATTER SECTION. MAKE SURE TO WRITE IN YOUR SELECTION AS STATED.
50 Sketches will be available. This sketches will be done on 8 x 10 white paper and consist of black ink with hints of color if I feel its appropriate for the subject. Color is NOT guaranteed. They will be done in a mixture of style(s) of stippling and/or hatching, again depending on subject matter.
Subject Matter: You will choose what you want by stating so in the notes section on the checkout page, located under your total.. PLEASE BE SPECIFIC! Do not just say "Wonder Woman". Which Wonder Woman? Gal? Linda? Comic Book? You get the idea. NO SCENES! This is a sketch, not a sprawling vast drawing. One to two subjects per sketch. Subject matter is wide open with some exceptions ( I do not draw anime). If you requesting something I don't think works, I will notify you.
TIMEFRAME: As you could imagine completing all of these will take time. Especially while dealing with client work. They will be done on a first in, first out basis. I will be looking to wrap all 50 up within 6 months. Kinda like how long screenprinting is taking these days. I am hoping they do not take that long but I like honesty and over estimating , especially with things the way they are.You will receive a tracking number once yours is completed and ready to ship. They will be shipped flat and insured priority mail.
INTERNATIONAL PEOPLE: You will notice shipping is high, because again, these will be shipped priority not first class like I ship tubes. International priority is trackable all the way through so it helps both of us to do it this way. It is set at a standard rate of $60.00 for that is the highest rate I found for certain countries. If there is a big difference between this rate and your actual shipping rate, I will refund the difference once your sketch is ready to ship.